Microsoft Excel mistaken for Surf Excel, receives negative reviews on Play Store
Microsoft Excel is facing the brunt in India over an advertisement by Surf Excel. Some users are posting negative reviews for Microsoft Excel on Google Play Store mistaking it for Surf Excel.
The outrage against Unilever's Surf Excel began with a TV commercial, which had a message for communal harmony. The ad received backlash and soon after, people started campaigning against the product online. The campaign started trending on Twitter with the hashtag #BoycottSurfExcel soon.
The campaign naturally moved to Play Store where people decided to downgrade the official Android app of Surf Excel. In an amusing turn of events, however, Microsoft Excel app became the target. If you check out the Microsoft Excel app on Play Store and scroll through the review section, you'll see some reviews that stand out.
Users are giving negative reviews to the wrong 'Excel' here saying that the company is "Anti-Hindu Software". One user even rated the app the lowest possible one star and directly attacked someone called "Bill Microsoft".
The confusion was soon noticed by the Twitter police and users were quick enough to get their troll guns out.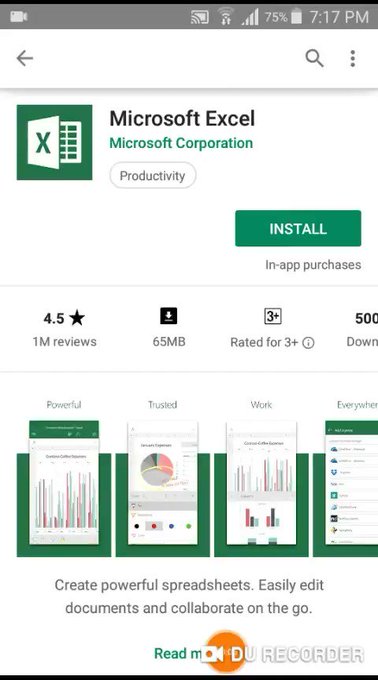 It's not the first time this kind of confusion has occurred online. Back in 2017, people went after Snapdeal confusing it for Snapchat after the CEO's remarks on India left people fuming. Similar to the Surf Excel-MS Excel incident, people started deleting Snapdeal app from their phones as a mark of solidarity.
Google Expands Dark Web Monitoring for Gmail Users: Protecting Your Online Security
Google has made an announcement stating its plans to extend Dark Web monitoring to all Gmail users in the United States, with a later expansion to international markets. This new feature will allow Gmail users to conduct scans to check if their Gmail address appears on the Dark Web, and they will receive guidance on how to take necessary actions to protect themselves.
Previously, the Dark Web scan feature was exclusively available to Google One subscribers in the US. However, within the next few weeks, it will become accessible to all Gmail users. Google also mentioned its intention to expand access to the Dark Web report to selected international markets.
Jen Fitzpatrick, SVP of Google Core services, highlighted that the company already safeguards Gmail users from approximately 15 billion unwanted messages on a daily basis. They achieve this by blocking over 99.9 percent of spam, phishing attempts, and malware. Furthermore, Google intends to enhance spam protection within Google Drive. They will introduce a new view that simplifies the sorting and reviewing of files, allowing users to identify potential spam and protect themselves from unwanted or harmful content.
To further enhance user safety, Google Drive will automatically classify content into a spam view, similar to the functionality in Gmail. This will prevent users from encountering dangerous or undesirable files. Additionally, Google is launching a new tool called "About this Image" to assist individuals in evaluating the credibility of visual content discovered online. This tool will provide users with important contextual information about images, such as the date of first indexing by Google, where it was initially found, and where else it has appeared online, including news, social, or fact-checking sites.
Google has recently become the first major technology company to enable passkey sign-in on its platform. Passkeys combine the high level of security offered by 2-Step Verification (2SV) with the convenience of simply unlocking the device.
Google Authenticator Introduces Google Account Synchronization for Easier 2FA Code Backup
Google Authenticator is a valuable Google service that is underutilized by many people. With the increasing adoption of two-factor authentication (2FA), it is becoming apparent that relying on text messages as a second form of verification is not secure enough. Therefore, using a service like Google Authenticator is an easy alternative to switch to.
Although using Google Authenticator is generally easy, it can become complicated if the device storing your 2FA codes is lost or stolen. However, Google has announced a change to Google Authenticator that should help users deal with this situation. The service now supports Google Account synchronization on both iOS and Android, allowing users to back up their one-time codes to their Google Account. This is a significant improvement.
Google has received feedback over the years regarding the complexity of dealing with a lost or stolen device when using Google Authenticator. The account synchronization feature should make this less of an issue, as your codes can now be stored in your Google Account. The new version of Authenticator with account synchronization should be rolling out as version 6.0. Users simply need to update the app to the newest version and follow some prompts to get started.
The update process is straightforward, with the first prompt asking users to choose their Google Account to sync to. From there, users can start adding codes, switch between light and dark mode, transfer accounts, change accounts, and more. Additionally, the app icon has been updated from the old grey "G" logo to a more colorful image.
Govt blocks several social media handles circulating fake, inciting content
In the midst of the enormous lockdown on contemptuous posts, sources said that the hostile substance actioned related to the counterfeit video of a cupboard instructions, an enlivened phony video showing viciousness against the Prime Minister, and disparaging posts focusing on Hindu ladies transferred via web-based media handles.
The public authority has hindered a few web-based media handles that were coursing "counterfeit and affecting" content on Twitter, YouTube, and Facebook, Minister of State for IT Minister Rajeev Chandrasekhar said on Saturday.
Proprietors of these records are being recognized for activity under the law, he added.
"Taskforce on Safe and Trusted Internet at @GoI_MeitY at work. Handles that attempted to push counterfeit/inducing content on twitter, youtube, fb, insta have been impeded," Chandrasekhar Tweeted on Saturday.
The pastor said proprietors of such records are being distinguished for activity under the law, and declared that stages will be investigated on their due steadiness.
On Friday evening, the pastor had reacted to a tweet that encouraged him to make a move against the "makers of an exceptionally fierce video that includes the PM", which "has been in the public area since December 2020".