Microsoft Excel mistaken for Surf Excel, receives negative reviews on Play Store
Microsoft Excel is facing the brunt in India over an advertisement by Surf Excel. Some users are posting negative reviews for Microsoft Excel on Google Play Store mistaking it for Surf Excel.
The outrage against Unilever's Surf Excel began with a TV commercial, which had a message for communal harmony. The ad received backlash and soon after, people started campaigning against the product online. The campaign started trending on Twitter with the hashtag #BoycottSurfExcel soon.
The campaign naturally moved to Play Store where people decided to downgrade the official Android app of Surf Excel. In an amusing turn of events, however, Microsoft Excel app became the target. If you check out the Microsoft Excel app on Play Store and scroll through the review section, you'll see some reviews that stand out.
Users are giving negative reviews to the wrong 'Excel' here saying that the company is "Anti-Hindu Software". One user even rated the app the lowest possible one star and directly attacked someone called "Bill Microsoft".
The confusion was soon noticed by the Twitter police and users were quick enough to get their troll guns out.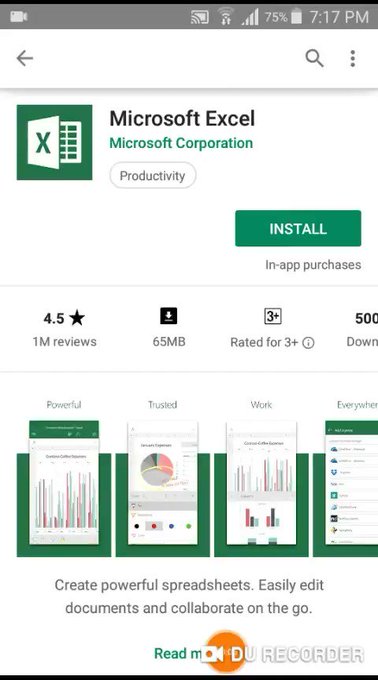 It's not the first time this kind of confusion has occurred online. Back in 2017, people went after Snapdeal confusing it for Snapchat after the CEO's remarks on India left people fuming. Similar to the Surf Excel-MS Excel incident, people started deleting Snapdeal app from their phones as a mark of solidarity.
Govt blocks several social media handles circulating fake, inciting content
In the midst of the enormous lockdown on contemptuous posts, sources said that the hostile substance actioned related to the counterfeit video of a cupboard instructions, an enlivened phony video showing viciousness against the Prime Minister, and disparaging posts focusing on Hindu ladies transferred via web-based media handles.
The public authority has hindered a few web-based media handles that were coursing "counterfeit and affecting" content on Twitter, YouTube, and Facebook, Minister of State for IT Minister Rajeev Chandrasekhar said on Saturday.
Proprietors of these records are being recognized for activity under the law, he added.
"Taskforce on Safe and Trusted Internet at @GoI_MeitY at work. Handles that attempted to push counterfeit/inducing content on twitter, youtube, fb, insta have been impeded," Chandrasekhar Tweeted on Saturday.
The pastor said proprietors of such records are being distinguished for activity under the law, and declared that stages will be investigated on their due steadiness.
On Friday evening, the pastor had reacted to a tweet that encouraged him to make a move against the "makers of an exceptionally fierce video that includes the PM", which "has been in the public area since December 2020".
PhonePe will now charge upto Rs 2 per transaction for mobile recharges
Walmart-owned digital payments app PhonePe will now charge processing fees for every transaction. This means that you will no longer be able to transfer money or recharge your phone without shelling out a little extra money for every transaction. The company has said that it would charge fees in the range of Re 1 to Rs 2 per transaction for mobile recharges for value above Rs 50. PhonePe is the first payments' app to have started charging for UPI-based transactions
"On recharges, we are running a very small-scale experiment where a few users are paying for mobile recharges. Recharges below Rs 50 are not charged, recharges between Rs 50 and Rs 100 are charged Re 1 and above Rs 100 are charged Rs 2. Essentially, as a part of the experiment, a majority of users are either not paying anything or paying Re 1," a PhonePe spokesperson told PTI.
PhonePe s charging processing fees for UPI-based transactions for value above Rs 50. If you don't spend upto Rs 50, you will not be charged any amount by the digital app. Like other payments apps, PhonePe will also begin charging processing fees for payments made through credit cards. PhonePe is one of the most popular, widely-used payments app in India along with Paytm and Google Pay. It has recorded over 165-crore UPI transactions on its platform in September, clocking over 40 per cent share among the app segment, the PTI report stated.
"We are not the only player or payment platform charging a fee. Charging a small fee on bill payments is now a standard industry practice and is done by other biller websites and payment platforms also. We charge a processing fee (called a convenience fee on other platforms) on payments with credit cards only," the spokesperson added.
For the unversed, just like Paytm and Google Pay, PhonePe can be used to transfer money with BHIM UPI, manage multiple bank accounts, check account balance, save beneficiaries across multiple bank accounts like SBI, HDFC, ICICI & 140+ banks. Recharge prepaid mobile numbers like Jio, Vodafone, Idea, Airtel etc, recharge DTH like Tata Sky, Airtel Direct, Sun Direct, Videocon etc, pay various bills and more. You can also buy or renew insurance policies using PhonePe.
Source : IndiaToday
Bitcoin crosses $59,000 after sharp rally, Ether up nearly 5%
Cryptocurrency prices were mixed on Friday with Bitcoin and Ether witnessing gains while Stellar and Dogecoin were trading weaker. Check the latest cryptocurrency prices and trends.
Cryptocurrency prices were mixed on Friday with Bitcoin and Ether witnessing gains while Stellar and Dogecoin were trading weaker.
Bitcoin hit a six-month high on October 15, as it rose nearly 3 per cent and was trading at $59,694.
The world's largest cryptocurrency is approaching April's record high of $64,895.
The most popular altcoin, Ether, was trading at $3,827 or more than 5 per cent higher.
The global cryptocurrency market cap is $2.43 trillion, a 1.93 per cent increase in the past 24 hours.
Meanwhile, the total crypto market volume over the last 24 hours is $102.5 billion, a decline of 11.63 per cent.
Here are the latest prices and trends of popular cryptocurrencies:
| | | | | |
| --- | --- | --- | --- | --- |
| Cryptocurrency | Price (US Dollar) | 24-hour change | Market cap | Volume (24 Hours) |
| Bitcoin | 59,694.90 | 3.44% | $1.12 trillion | $1.56 billion |
| Ether | 3,827.94 | 5.51% | $449.38 billion | $1.28 billion |
| Dogecoin | 0.232463 | -1.44% | $30.58 billion | $1.22 billion |
| Litecoin | 183.76 | 2.37% | $12.63 billion | $118.28 million |
| XRP | 1.14 | 0.57% | $114.17 billion | $4.77 billion |
| Cardano | 2.19 | 0.67% | $71.17 billion | $190.15 million |
DISCLAIMER: The cryptocurrency prices have been updated as of 12:30 pm and will change as the day progresses. The list is intended to give a rough idea about popular cryptocurrency trends and will be updated daily.
Source : IndiaToday